The number of blacksmiths in Yoitamachi, which was 300 at one time, was closed one after another, and now there are about 10 blacksmiths.
1st Inheritor Mr. Shimada.
 Mr. Shimada has come to Yoita since 2017 using the system of the "Local Vitalization Cooperator"(* 1) to become the successor. Currently, he is working at Nakano Plane Factory.
 *1: Nagaoka City's traditional craft inheritor development support project subsidy have been used Since 2020,
Inheritor raising project.
 In addition to Mr. Shimada, three members of Nagaoka City's citizen group "Sorahito Hiyori" aiming to "improve the attractiveness of the area and solve problems" and the Echigo Yoita Uchihamono Association Craftsmen (Seisuke Mizuno, Hideki Komori, Masaki Komori) have cooperated to start a inheritor raising project, "Echigo Yoita Uchihamono Denshokai". Due to various circumstances, it was decided to accept one disciple at Mr. Seisuke Mizuno for the first time.
 In this project, a subsidy (150,000 yen / month≒140USD) for the Inheritor raising support project for traditional crafts in Nagaoka City is provided to the disciples, and the craftsmen who teach the disciples also use the subsidy of the Ministry of Economy, Trade and Industry to subsidize the income reduced by guidance. This was the first attempt in Japan to allow both craftsmen and disciples to concentrate on guidance and training.
In this project, recruitment of disciples, hands-on sessions and selection sessions was held at June 2020, with more than 10 inquiries and 8 applications / participants.
At the experience session, each participant actually came to Yoita and had them experience Kanna making at Mizuno Kanna Factory in 3 days.
 From the selection, Toru Nitadori (31 years old) from Hokkaido was selected from the participants and started training on October 1, 2020.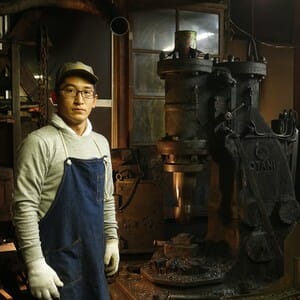 For the future.
Due to the limit of the subsidy, it will be a maximum of 5 years of instruction, so inheritor Mr.Nitadori must become full-fledged and become independent within 5 years. Unlike the "seeing and remembering" method in the traditional apprenticeship system, which was said to take 10 to 20 years to become a full-fledged person, the method of "directly instructed by a craftsman" is used to quickly develop a full-fledged person in 5 years.